Welcome To The Homepage Of The Baitguy
888-5BUNKER
888-528-6537
www.baitguy.com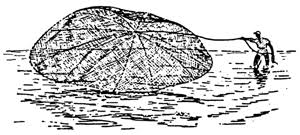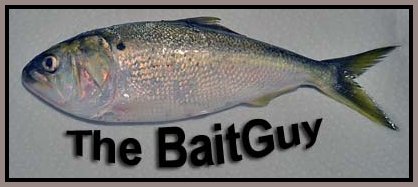 I was born in Ocean County, New Jersey and have been a lifelong resident of Toms River. I fresh water fished from the age of seven to seventeen. After acquiring my driver's license I began to salt water fish regularly! I started throwing a three foot ( six foot diameter ) cast net as a little kid and the nets got bigger as I got older. I suspect they may start getting smaller again because I realize I am NOT getting any younger. The custom nets I throw now are from eight to fourteen feet ( twenty eight foot diameter ) depending on conditions and laws of course.

I was an active, avid and aggressive jetty/beach fisherman for twenty plus years. I use to fish seven days (more nights for big stripped bass) a week. At the level I fished, you could not really fish both from a boat and from the beach. The crowds at Island Beach State Park have grown out of control from the days of 150 annual beach buggy passes to almost 8000! Therefore, a boat gives one a bit more freedom and range to get away from the crowd and even that is not so easy with the amount of people in our state. Regardless, everyone has a right to fish, but I just prefer to do it alone away from the crowd and limelight.

Not to boast or brag but I have caught more 20-40 pound striped bass in a day than most fishermen will catch in a lifetime. I still love the thrill of a bass opening up a hole in the ocean trying to engulf that live bunker, but I get equally excited netting bait. The challenge of netting finger mullet from the beach is something I really enjoy and most people consider me extremely proficient at it.
About Me